Evaluation and recording of long-term recording
BAPPU-time, the windows-software for long-term recording, is a useful supplement when recording health-related physical variables. All recorded environmental features at workplaces can be tracked and recorded over a freely definable period of time. Critical measured values, which are often not recognized in the context of random measurements, can thus be determined and their causes examined. Dependencies between different variables such as temperature, relative humidity or solar radiation can also be clearly visualized.
As with the BAPPU software, great importance was attached to easy operation and a user-friendly graphic interface with the BAPPU-time. The course of the recording can be followed online using the graphic display in the recording monitor and the alphanumeric display in the measured value window. The exact resolution of individual measurement areas based on the values ​​collected up to the selected point in time is also possible during the recording in the graphics window. After the recording is complete, the measured values ​​can be displayed in tabular form or as a curve in the graphics window. The interval to be displayed can be freely scaled. Significant values ​​can be determined quickly in this way. The times at which these values ​​occurred can be determined immediately thanks to clear scaling and alphanumeric information. The measuring ranges can be displayed in parallel so that an immediate comparison of the curves is possible. Fine resolutions of critical areas are made possible by magnifying functions.
All data and graphics can be printed. By exporting it as a .csv file, the database can be used in common programs under Windows for documentation, evaluations and/or statistical tasks.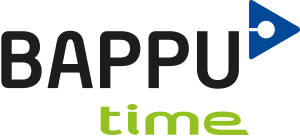 With the BAPPU-time windows-software, we are offering the client a high-end performance solution for evaluation and recording the results of long-term study data acquired using instruments from the BAPPU product range. The client can utilise BAPPU-time te generate the results in graphs and table form in oder to aid analysis or to be used in further evaluation.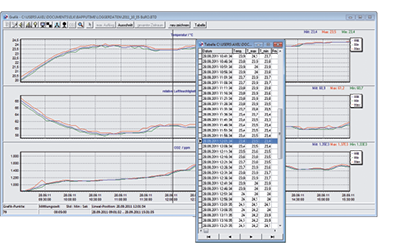 Parameters for long-term recording
Noise level, average noise level (1 Min) extended C-peak now up to 137dB - (Class 2) in accordance with DIN EN 61672-1

Illuminance (Class C) in accordance with DIN 5032-7d

TVOC (Total Volatile Organic Compounds)

PM (Particular Matter), PM1, PM2.5, PM10

Calculation for PMV (Predicted Mean Vote / PPD Predicted Percentage Dissatisfied)

Current measured data (display)
graphic development of the measured graphs

Window for the high-resolution representation of the

measured graphs, even during the recording

parallel visual display of different measured graphs

Ruler for indication significant data

Measurd data tabelsTagging of the minimum, edium and maximum values

Calculation of mean values for all areas and LEQ

Print and export function