"The guardian of indoor air quality."
VOCOO+ is an IAQ (Indoor Air Quality) sensor for assessing indoor air. CO2, particulate matter, CO are monitored for their concentration in the room air. Additional variables such as air temperature and relative humidity as well as the TVOC indicator (volatile organic compounds) complete the assessment.

The clearly visible LED traffic light rating and the display ensure good readability. If the maximum concentration of CO2 is exceeded, VOCOO+ prompts you to ventilate.
Measured variables
Particulate matter PM1, PM2.5, PM10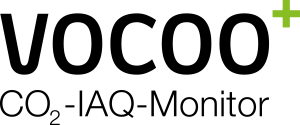 Features
Precisely proven measurement technology

Central data acquisition and management of the devices

LED traffic light display and acoustic signal
The IAQ-CO2 sensor for monitoring indoor ambient air hygiene (IAQ) - VOCOO+
We breathe in about 20,000 times a day - but in doing so we not only inhale vital oxygen, but also fine dust. This consists of a complex mixture of solid and liquid particles and is almost invisible. It is precisely these very fine particles that penetrate deeper into the respiratory tract than larger ones and thus reach areas from which they cannot be expelled when exhaling.

There are now more and more indications that excessive exposure to fine dust can pose significant health risks, which is why the topic has become increasingly important in occupational safety. After all, fine dust does not only occur in road traffic, but also in industrial production – polluted outside air gets into the interior through open or leaking windows. There are also other potential emission sources there: office equipment, such as document shredders, printers, vacuum cleaners or open fireplaces - they can all significantly increase the dust concentration in offices and living spaces.

For this reason, the workplace ordinances (ArbStättV) and the workplace rules (ASR), which describe the practical implementation of the requirements, apply to workplaces in Germany. In terms of air quality, the ASR 3.6 on particulate matter states:
"In enclosed work rooms, healthy breathing air must be available in sufficient quantities. As a rule, this corresponds to the outdoor air quality." The guidelines for outdoor air, which are essentially based on the EU guideline 2008/50/EG, must therefore be applied. It defines the limit values ​​for the different particle fractions."

With regard to air quality, ASR 3.6 on CO2 states: If there is a reasonable suspicion that CO2 concentrations are too high, measurements should be carried out under normal usage conditions and with the usual number of people, e.g. B. over the period of daily use. The instantaneous value is evaluated.

Before the measurement, the room must be ventilated as is usual for work. In rooms with a floor area of ​​up to 50 m², a measuring point at a height of approx. 1.50 m and at a distance of 1 to 2 m from the walls is usually sufficient. In larger rooms, it may be necessary to set up several measuring points. The measuring point should be in the area where people are staying - but at a sufficient distance from people - in order to avoid the measuring result being directly influenced by the breathing air of people." (Source: ASR A3.6 Ventilation

Our "guardian of the indoor air." continuously monitors office, school or living spaces with regard to these important components of the indoor air. The device requests ventilation by simply lighting up the traffic light colors green, yellow and red. A digital display shows CO2, particulate matter, TVOC, air temperature, rel. humidity and CO. A modern online application for managing the devices and evaluating the measurement data completes this innovative concept.

VOCOO+ - "The guardian of indoor air quality."